Saturday, February 02, 2008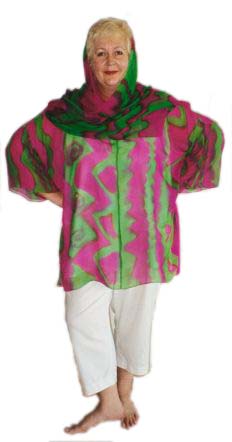 Silk chiffon is sooooo beautiful and the fact that it's see-through means that I can paint the brightest colours and if the silk is worn over white clothing, it stands out in a crowd ...

Wearing the silk over other complementary/similar colours works just as well.

This handpainted silk chiffon Teena Top at right in hot pink and lime green looks gorgeous with my hot pink silky satin tank top and matching pants, and yes, you guessed it - I DO have a lime green top and pants too!

The extra wide extra long scarf wrapped around the model's head is great for added effect, and perfect for cooler weather to keep the little earsies warm.

You can read more about this Teena Top on my website under Wearable Art:

http://abfab-australia.com

Talk soon!
Teena


Click COMMENTS below to send a message : or View the SILK PAINTING VIDEOS shown below.