Monday, February 11, 2008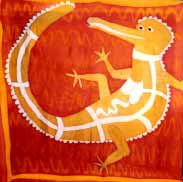 A lot of my paintings are influenced by Aboriginal themes and colours, and the simplicity of painting with two colours.

If you look closely at this Crocodiliac handpainted silk scarf I did a few years ago, you can see squiggles in the orange background where I've gone back with water on my brush for the wet-on-wet technique.

I used French silk dyes, and white water-based gutta to draw all of the design, as it suited my purposes for this painting.

My happy little Dancing Crocodiliac

:-)

Click COMMENTS below to send a message : View the SILK PAINTING VIDEOS shown below.