Saturday, December 15, 2007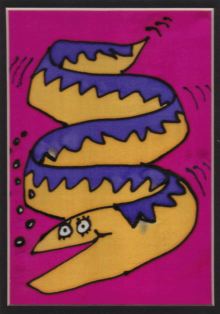 Every year I think I'll send handmade hand-painted silk cards to all and sundry to show them what a clever little chook I am. I think about it, dream about it, even talk about it ... and every year the time zooooooms by and I never get around to making those cards :-(

I've heard it's the thought that counts, so to all of you who know me, consider yourself thought about :-) Maybe next year!

I've also made tons of handpainted silk cards over the years with my own little unique animals on them, from tropical fish to koalas and seasnakes - whatever took my fancy.

The beauty of making the cards is that I can use the black gutta outline but don't have to steam the designs on silk, or wash them, so the difficult process of eliminating the gutta wasn't a problem.

Maybe it's time to start getting creative with silk cards again ... hmmmmmmmm ... sounds like a GREAT idea!

MERRY CHRISTMAS, HAPPY HOLIDAYS, ONE AND ALL!!

Ciao ciao
Teena!


Click COMMENTS below to send a message : or View the SILK PAINTING VIDEOS shown below.