Monday, August 21, 2006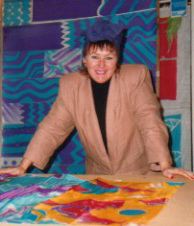 My first studio was up four flights of ricketty stairs, atop a little old building in Kings Cross. Once inside, it was an artist's dream ... I loved that place!

We created a big workbench with an old cupboard under each end, with all my paints, brushes etc in the cupboards. I had handpainted silk hanging everywhere - it was so colourful and cheerful. In the photo [taken about 10 years ago], the handpainted silk hanging behind me became a coat which I've been wearing ever since - quite the 'conversation starter'.

Friends used to meet me for brekkie [breakfast] in the Italian cafe downstairs, then I'd excitedly climb the stairs and go paint to my heart's content ... ahhhhh this photo is such a wonderful trip down memory lane!