Sunday, January 14, 2007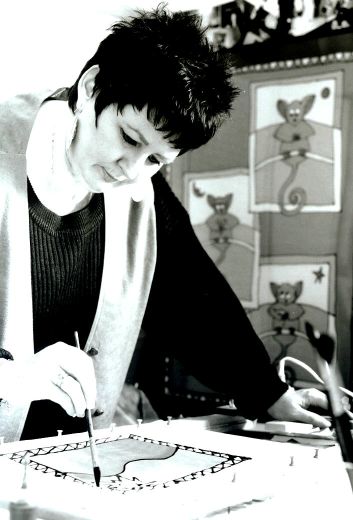 That's me a few years back, possums in the background :)
I met a friend for lunch recently and was telling her about the Studio. She paints on canvas using acrylic paints, beautifully realistic scenes of the Australian bush landscape, and many beach scenes inspired by the time we both lived in the Cairns area in far north Queensland [top of Australia].
After lunch I suggested we pop over to the Studio, which we did, and now we're planning to meet up every now and then and paint together. It's always lovely to have someone to chat with whilst working on something, and our painting skills are very different which will make for a fun day :)
Do any of you get together with friends or other artists to paint or create together? I'd love to hear about it. I'd like to do it more often, sort of like the old 'sewing circle' or 'quilting circles' of days gone by. Remember that movie 'American Quilt'? Such a lovely tale ...
And now I'm off to do some sewing, and it's been a while. My friend Di has lent me her sewing machine while mine's in hospital.
Happy art stuff!
Ciao ciao
Teena