Monday, April 07, 2008
This is a photo of one of my art Studios I had :-) -- it was in my backyard when I lived in the tropics in far north Queensland, at the top of Australia. I draped a sheet over the clothesline for shade, and balanced my wooden frame on plastic chairs ... looks fab, doesn't it? The bugs and butterflies and birds all thought so too - they were constantly buzzing around me whilst I was painting, and they landed on the silk because they thought it was flowers :-)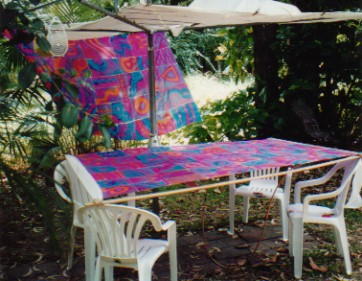 That was a few years ago now. Every now and then I do a search online for 'artist studio to rent', and I also search for apartments big enough to have my Studio in.

Over the weekend whilst thinking about this, and remembering back to the happiest times when I had studio space I love, I was reminded that it was when I had a totally separate studio. Admittedly it was only a 10 minute walk to my apartment, and that was absolutely wonderful, but since then I've tried different ways of trying to have a studio at home and it's never quite worked.

So - getting back to today - I came across a few new places online to actually search for art studios and I was pleased with that.

And then I saw it - an ad which had gone online in the last couple of hours (!!) - someone who wanted to share their huge artist studio with one other. The lady is a theatrical costume manufacturer, and has sewing machines and a huge work bench in the space.

So I sent off the email, and mentioned I was a textile designer ... I got a call immediately from Rosemary, and the more she told me about the space, the more it sounded perfect.

I asked about the possibility of teaching silk painting classes in the space and she was very open to that. Woohoo! this could be the perfect solution for me!

So - I've made an appointment for Friday morning at 10am, and we'll 'size each other up', so to speak :-)

It's about 10 mins from my apartment, so close enough to go to at night if I feel like it, and is also fabulously close to public transport for students - it's on the edge of the heart of Sydney.

This is VERY exciting!

*********
UPDATE August 2008 - after just a few short months, the other artist preferred to have the space to herself, so now I'm painting at home again - looking for the right space, in the right place, at the right time :-)
*********

Ciao
Teena

Join me for a Silk Painting Adventure in Paris France June 2008!
http://www.a-night-in-paris.com/silk-painting-france.html

Click COMMENTS below to send a message : View the SILK PAINTING VIDEOS shown below.